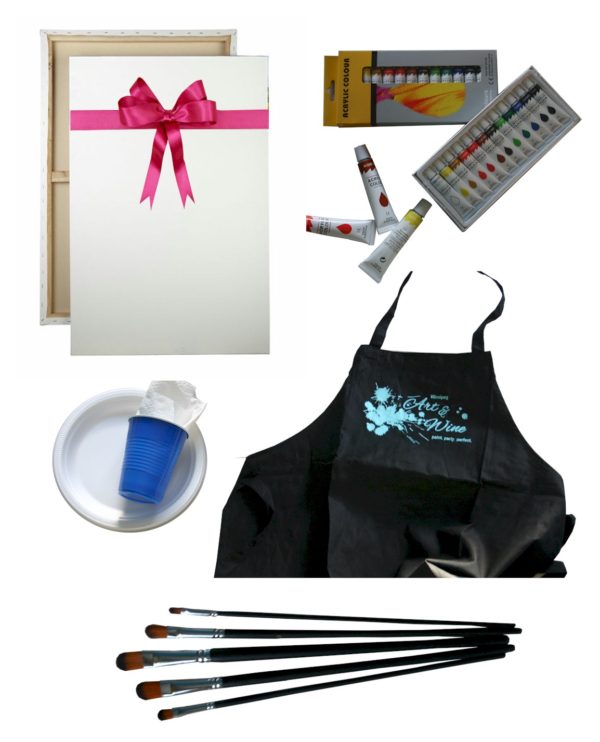 We sell a few art supply packages at our public venues.  We also offer paint packages, where you can receive everything you need to make your own painting - from the canvas, paint, brushes, apron, plate, cup, towel.  It's like a Paint Party in a bag!  All this for only $25.00!  Retails for $35.00 and up at art supply stores.
PLEASE NOTE:  Currently our basic package DOES NOT include the apron but will include instead two sets of paint instead of one.
$25.00

Includes: 
One 16 x 20 canvas
Two packages of 12 small acrylic paint tubes
(please note:  this paint is not a high quality paint such as the ones we have at classes)
One package of 5 paint brushes
One Cup
One Paper Towel
One Plastic Plate
Want to do several paintings then purchase extra canvas and paint.
Extra Canvasses: $7.00 each
Extra Paint:  $5.00 each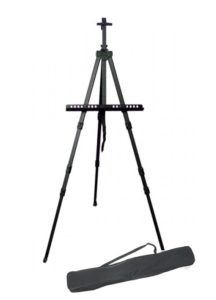 We also sell a high quality sturdy metal easel that is easy to put together and take down for travel or easy clean up.  It also comes with it's own travel bag.  This easel is adjustable and can be made into a desktop size or a full size easel.    An easel such as this runs between $35 - $40.00 at art stores but we are able to offer it for sale for only $30.00

Note:  At this time, due to the Corona Virus, you can only pick up your supplies week days.   Contact us for details of where.
These items can be purchased at any of our events and you do not have to attend the event to receive the discounted prices.  If you can't attend a class or you have further questions contact us at:  [email protected]